Begivenheter i Roma
| Arrangementer Roma | Roma konserter | Roma Teatre | Roma museer Italia
Begivenheter i Roma og omegn: detalj
From 04 Oktober 2013 to 02 Februar 2014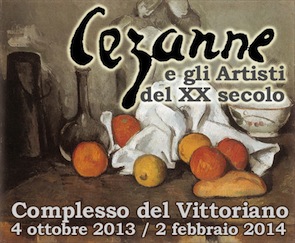 Cezanne in Rome
Cézanne's work will be showcased at the Vittoriano Complex in Rome! From October 4, 2012 to February 2, 2014, the Provençal artist's creations will spark the visitors' interest in "Cézanne 20th-Century Artists". A must-see for all those who love Rome and Art!

Cézanne and 20th-Century Artists
October 4 – February 2, 2014
Vittoriano Complex
Rome

Info: http://goo.gl/BUw4Kp


Nozio © 2013

Gå tilbake!