Evenemang i Rom
| Föreställningar | Rom nyheter | Rom konserter | Rom teatrar | Rom festival Italien
Evenemang i Rom med omgivningar: detaljer
From 05 Juni 2013 to 12 Januari 2014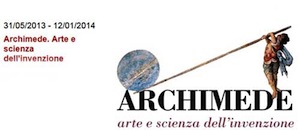 Archimedes, the art and science of invention
The scientist and native of Syracuse is the father of mechanics. This show unveils his pure genius, capable of creating - over two thousand years ago – machines and hydraulic systems that are still the very basis our modern technology. Filmed in 3D, drawings and multimedia applications allow visitors to travel into his unique world.

Archimedes. The art and science of invention
31/05/2013 - 12/01/2014
Musei Capitolini
Palazzo dei Conservatori and Palazzo Caffarelli
Rome

Info: www.museicapitolini.org/

Nozio © 2013

Bakåt!